Synopsis
Fungus finds an official WoodChucks Mooris #1 badge in his cereal, and he believe he is now 'number one'.
Plot
TBA
Characters
Minor Characters
Gallery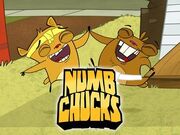 References
The title is an obvious reference to the TV series, The Breaking Bad.
Ad blocker interference detected!
Wikia is a free-to-use site that makes money from advertising. We have a modified experience for viewers using ad blockers

Wikia is not accessible if you've made further modifications. Remove the custom ad blocker rule(s) and the page will load as expected.