There many relationships Dilweed here.
Brother
Even though Fungus was adopted into the brother, Dilweed shares a genuine sibling connection with him. The two boys have a very big imagination and like to get into mischief. They get along very well, though they do argue at times. However, Dilweed can be a bad influence on Fungus.
Hero
Friends
Enemies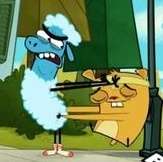 Ad blocker interference detected!
Wikia is a free-to-use site that makes money from advertising. We have a modified experience for viewers using ad blockers

Wikia is not accessible if you've made further modifications. Remove the custom ad blocker rule(s) and the page will load as expected.