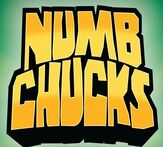 This is a list of episodes from the YTV animated series Numb Chucks. The series first premiered on January 7, 2014 on YTV in Canada. It has been acquired by Cartoon Network in the United States and was planned to air on the channel but ended up airing on Boomerang.
On June 9, 2014, the series was renewed for a second season, which began airing on March 17, 2015.
Season One (2014)
Season Two (2015)
Ad blocker interference detected!
Wikia is a free-to-use site that makes money from advertising. We have a modified experience for viewers using ad blockers

Wikia is not accessible if you've made further modifications. Remove the custom ad blocker rule(s) and the page will load as expected.