From Dusk Til Dawn
Season 2, Episode 5

Vital statistics

Air date
May 12 2015
Written by
Unknown
Directed by
Brad Ferguson

J Falconer

Episode guide

Previous
Next
-
-
Synopsis
After being fired, Dawn is the worst roomate ever!
Plot
TBA
Characters
Minor Characters
Gallery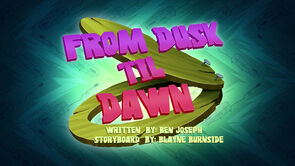 Trivia
This episodes mark Dawn's second major role. The first one is Couch Potato.
This the first time Dawn get fired.
Ad blocker interference detected!
Wikia is a free-to-use site that makes money from advertising. We have a modified experience for viewers using ad blockers

Wikia is not accessible if you've made further modifications. Remove the custom ad blocker rule(s) and the page will load as expected.