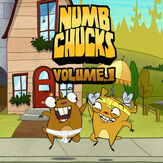 Before one night changed their lives, woodchuck brothers Dilweed
and Fungus never saw themselves as heroes. But during a late-night-TV infomercial, they order a Woodchuck Morris kung-fu video. Now, they have made it their mission to become just as awesome as their kung-fu mentor. Misguided but with good intentions, the brothers become obsessed with using their newfound skills to protect the citizens in their town of Ding-A-Ling Springs.Dilweed and Fungus take on a never-ending quest to fight off danger with Morris' guidance.
Voice Actors
Season One
Episode List
| Season | Episodes | Season premiere | Season finale |
| --- | --- | --- | --- |
| 1 | 27 | January 7, 2014 | December 9,2014 |
Ad blocker interference detected!
Wikia is a free-to-use site that makes money from advertising. We have a modified experience for viewers using ad blockers

Wikia is not accessible if you've made further modifications. Remove the custom ad blocker rule(s) and the page will load as expected.